DOWNTON — The $105 million sale of Thompson Center to Google has the potential to reshape the Loop by bringing in more residents — and with them residential developments, real estate experts say.
Developers, investors and real estate executives have been watching the market closely since the tech giant announced in July that it would expand the Thompson Center for office space, which could bring thousands of workers downtown.
Ben Creamer, principal and managing broker of Downtown Realty Company, said workers need a place to live — and many want to be nearby.
The company owns more than 300 properties in the Loop's central business district and has seen a large number of people move downtown to be closer to work over the years because convenience has been its No. 1 priority, Kramer said.
"It's really important for people to have convenient transportation, and being able to get to work is an important part of that," Creamer said.
Now, Creamer and other industry experts are watching what they call the "Google effect" of real estate investment around the Thompson Center.
"As we continue to see more people moving closer to the office … I think it's going to have a big impact," Cramer said.
With office occupancy rates hovering around 46 percent compared to 2019 levels, Cream and other industry experts think vacant office buildings will be converted to condos and apartments.
The first real test of this hypothesis is the 33 N. LaSalle St. For sale, the 38-story art deco skyscraper serves as an office building. A report from Costar is the first major Loop building to hit the market since Google's July announcement.
The skyscraper is being marketed as desirable office space, with Google citing the addition of the Thompson Center as a major selling point in the executive summary. The building, which is currently 71 percent residential, has the potential to add more Loop-based workers — or lend itself to residential conversion.
John Sheridan, CEO of James McHugh Construction Corp., said other prominent properties in the area are considering adaptive reuse, meaning they can convert offices into residences or hotel rooms.
These include 135 S. LaSalle St., 65 E. Wacker Place and 19 S. LaSalle St., Sheridan said. He lives at 33 N. LaSalle St. He doesn't know closely, but he thinks he can be a contender for change.
"We're almost always looking at two buildings downtown to convert to a hotel or office use," Sheridan said.
Converting historic buildings can come with tax incentives to lower construction costs, making them attractive to developers. On the other hand, projects like this can take years to get off the ground, depending on good planning and working "at the right time," Sheridan said.
Adding to the Google effect: The pandemic's construction delays have created a viable market for apartments and condos with high demand and low supply. This year, developers will complete 1,500 units downtown, but the typical average from past years is around 4,000, Creamer said.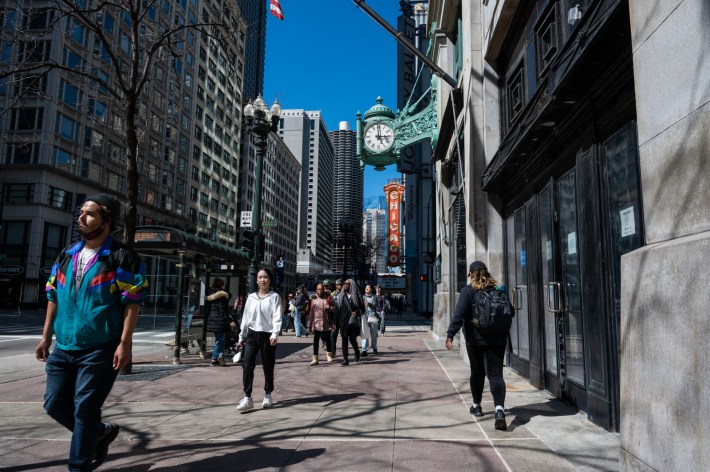 Creamer expects the market to stabilize in 2024, two years before Google is expected to finish construction and move into the Thompson Center. Tenants can expect to face higher prices as a result — but building conversions could add to the market and stabilize prices in the future, Cramer said.
Residential conversions will have larger floor plans, some of which offer more affordable options than "building from the ground up," Cramer said.
Sheridan believes he'll continue to see Loop conversions and reuse projects before Google moves in — but not all of those projects are the result of the tech giant, as downtown has been seen being repurposed as the city's landscape evolves.
The Tribune Tower, London House Hotel, Virgin Hotel and Dearborn Tower in the South Loop are among the projects that have been repurposed in recent years.
You can go up and down in the city – there are a huge number of buildings. [that are conversions]. So I think this is going to continue to be a trend that we're going to see more and more over time," Sheridan said.
Listen to "It's All Good: The Block Club Chicago Podcast."