Countless racks of trendy and timeless fashion fill the corner of University Center 142 with life. Clothes hang patiently on the racks, waiting to be hand-picked and worn by students. Professional suits and sports coats, graphic tees and workout clothes are among the well-organized and easily accessible clothing mix.
The Care Closet is a university resource that provides free clothing to all students, regardless of their financial status. NKU Clothing Source is part of parent organization Care Closet in Newport, Ky. That branch helped equip the university to launch the program in 2021, according to Institute for Health Innovation director Carolyn Noe.
The idea for the Care Cupboard blossomed within the Institute for Health Innovation after the introduction of FUEL NKU, a free food pantry for NKU students. Noe was struck by the mission behind FUEL, which suggested that if food insecurity was an issue, finding affordable clothing was also a potential issue.
"If students aren't meeting their basic nutritional needs, to me that means they're probably not even able to buy clothes, or at least they're not able to buy a lot of clothes that might come with something like an internship ," Noah. said.
Before launching the Care Closet, Noe explored similar resources at other universities. She found that many organizations had a like-minded mission, but their supply of resources declined. Students at these universities would be limited to only one or two subjects, which she felt was not enough, especially for internships or full-time jobs.
The Care Closet has no set limits on how many items a visitor is allowed to take home, but Coordinator Peyton Anderson gently recommends leaving with two to three bags, which typically include ten to twenty items of clothing, two to three pairs of shoes and a backpack or briefcase. These items can be a mix of professional wear as well as casual wear, as the space stocks about fifty percent of both categories at any given time.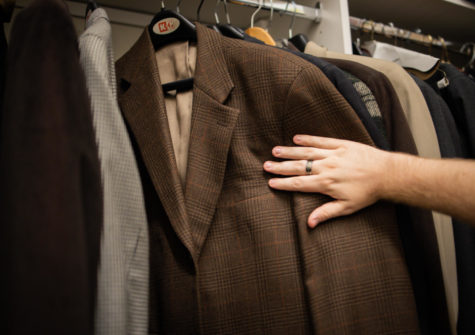 Noe acknowledges that college is a costly venture for all students, who endure a never-ending cycle of tuition, housing and food prices that aren't going down anytime soon. High-quality fashion items come at a premium, and students deserve to feel like their best selves in the classroom and as they enter the career field.
Anderson recalled her feelings of worry about affording basic necessities, much less new clothes.
"When I was in college, we didn't have a care closet here at NKU. There were definitely times I remember feeling, 'Oh my god, how am I going to afford the groceries? How will I afford the clothes?' I think there's almost this natural shame, and so I think places like Care Closet and FUEL NKU provide a kind of normalization of the need for these things," Anderson said.
The organization works closely with LGBTQ+ services, providing a safe space for students to come in and choose clothing that fits their body and preferences. The organization understands that the cost of purchasing a new wardrobe to match one's identity can be overwhelming for college students.
Students with children or families to care for may also receive clothing for these individuals. Any needs not met by Care Closet's current supply can be met by the Newport branch, which specializes in helping impoverished children and families.
Matthew Waits, Care Closet Assistant Coordinator, noted the intimacy and judgment-free nature of the space. He encouraged all students to check out the source without a second thought. He thinks that men on campus are an unreachable demographic for the Care Closet, which may stem from their stigma against accepting help.
"If you come in here, the only person who will know you came in here is me, and I can't remember their faces," Waits said.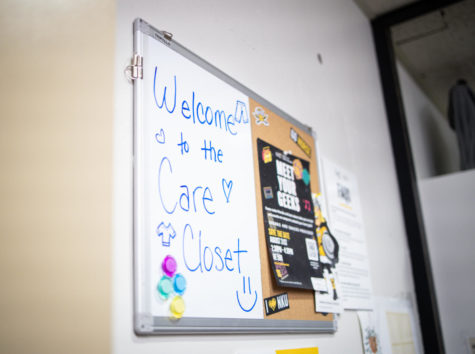 NKU student Steve Halpin is a testament to the value of Care Closet, who has returned to college at the age of fifty. Halpin made it a point to turn his life around after he was released from prison, became a Christian, secured a job and finished his college degree. Returning to the university environment was an overwhelming experience for Halpin at first, but he quickly found the resources he needed to succeed.
Halpin remembered entering the University Center in pursuit of the Learning Center and happened to see the Care Closet. Since then he has visited the source on at least three separate occasions, finding new items with each visit. His job at the catering company requires white dress shirts, black pants, black ties and shoes, all of which he collected from the Care Closet.
For Halpin, the friendliness of staff members like Waits has impacted his college experience. He encouraged students not to cheat themselves out of a valid resource and left a message for those trying to claim the Care Closet reward.
"I would tell people not to be shy about coming in here because they're always going to have the opportunity to give back when they're on their feet," Halpin said.
Waits also noted that clothing supply shortages are an unpredictable issue for the Care Closet. The organization receives a daily influx of new clothing, which may be from the Newport branch or selected donations from faculty, staff and some students. One of the challenges, Waits said, is actually having too many clothes and not getting enough.
Anderson assured students who may not be struggling financially but could still use support to get in.
"In the same way that FUEL has a constant flow of food coming from Kroger, we are the same way. So even though our space looks small and you might say, 'Oh no, I'm taking all three sweatshirts that are out, chances are we have like 150 other sweatshirts that just aren't out. I always try to tell the students the moment you're done shopping, we're going to make up for whatever you got," Anderson said.
Students have options in how they choose to visit the Care Closet. Walk-in hours are available every weekday, and appointments are available on Mondays, Wednesdays, and Thursdays. Students interested in making an appointment simply visit the organization's website, fill out a short appointment request form and come to their scheduled time. The application form asks basic questions, such as the student's size, preferred fashion styles, and the purpose of the meeting. With this information, the Care Closet staff is able to pull suggested items for the student and, if necessary, request additional clothing from the Newport organization.
Waits spoke of the personal fulfillment he gets from serving students, especially in special circumstances when the resource they provide is truly life-changing. For anyone thinking of seeing what the Care Closet is all about, Waits says there's no better time, and if you're hesitant to source, just bring a donation with you.