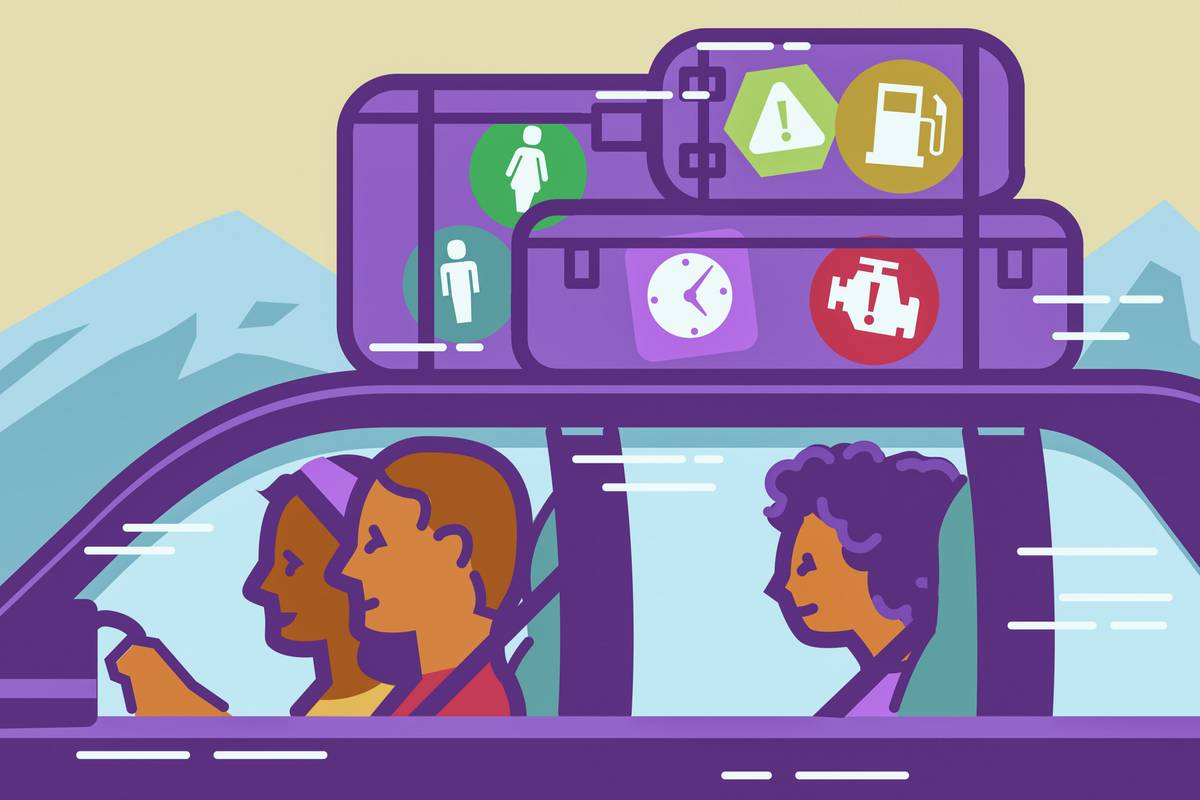 Labor Day travel trends | Cars.com illustration by Paul Dolan
As Labor Day weekend approaches to signal summer's demise, an extra day off to squeeze in one last trip for the season also looms. In 2021, Labor Day travel was largely influenced by pandemic concerns as many travelers opted to drive instead of fly, according to a Cars.com survey — but the 2022 survey shows the deciding factors have now largely shifted to convenience and gas prices, while families with young kids and electric vehicle owners report unique travel motivations (and challenges).
Related: Cars.com's 2022 Car Seat Fit Report Card
Planes, Trains or Automobiles?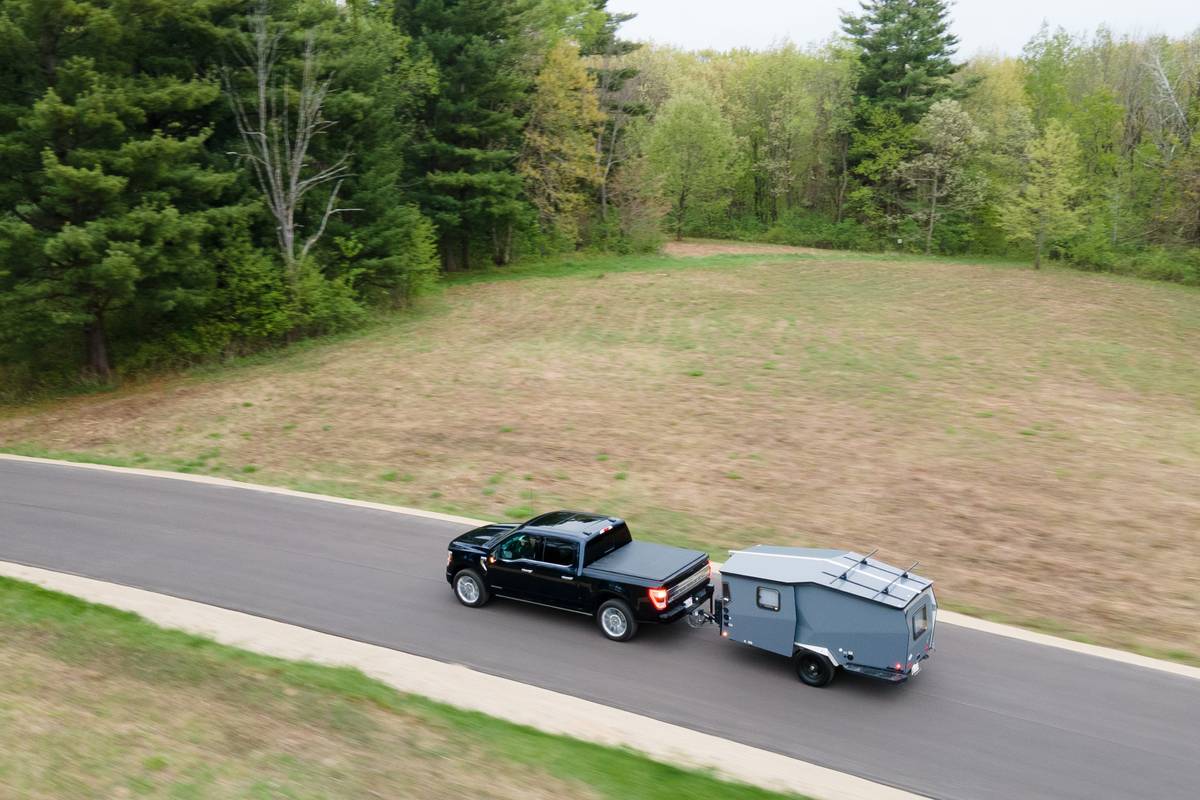 2021 Ford F-150 | Cars.com photo by Evan Sears
Of those respondents planning to travel for Labor Day, 80% will drive, 16% will fly and 3% will take the train. The survey shows falling gas prices are influencing more travelers to drive: After reaching record highs over the summer, gas prices have been on a downward trend in recent weeks: As of this writing, the national average for a gallon of gas was $3.87, according to AAA, down from a record high of $5.02 in mid-June. Nearly two-thirds of respondents said that gas prices have influenced their travel plans. Yet even as prices drop, some respondents are still experiencing sticker shock at the pump, with 66% of those not driving attributing their decision to elevated fuel costs.
Shoppers in the market for a new car can reduce pain at the pump by going with a fuel-efficient gas model, hybrid or plug-in hybrid vehicle. Those who want to bypass the gas station entirely can look for an efficient and affordable all-electric vehicle (more on that below).
Hitting the Roads with Kids in Tow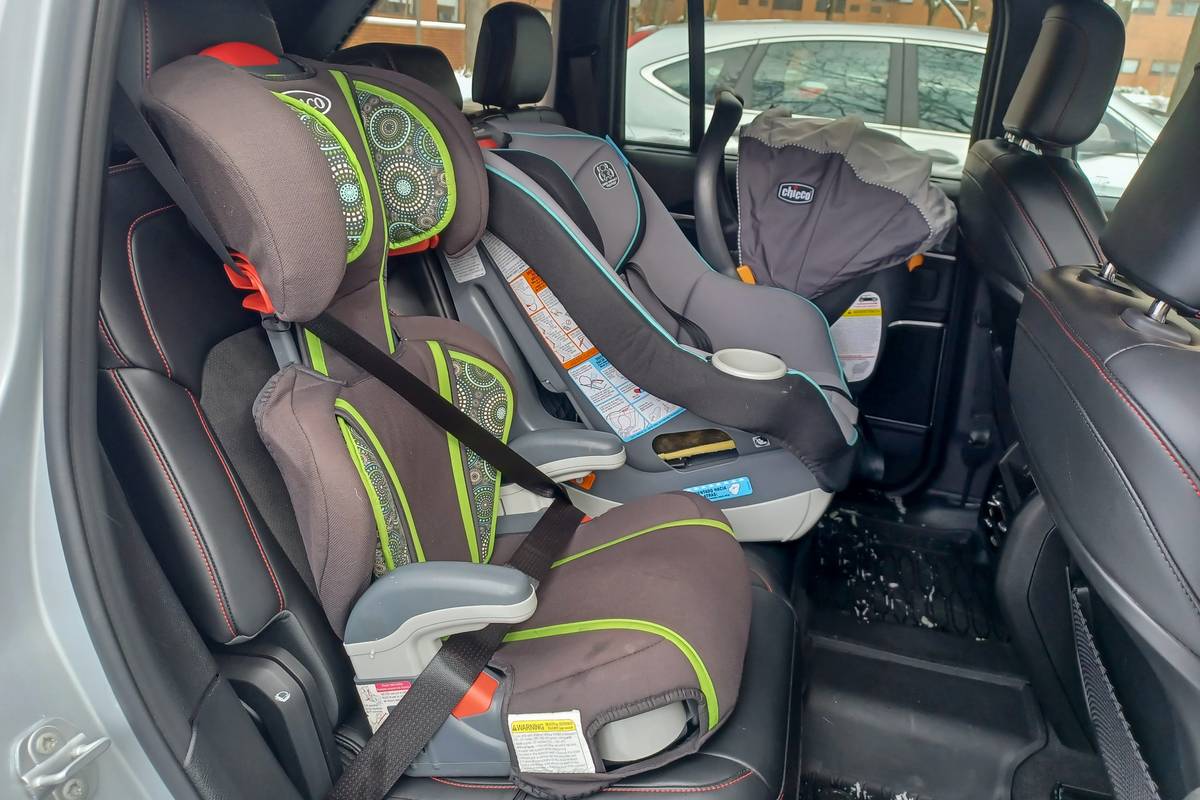 2022 Jeep Grand Cherokee | Cars.com photo by Jennifer Geiger
As many caregivers can attest, flying with young children is not easy. Driving, on the other hand, enables flexible pit stops and eliminates the risk of judgmental stares from fellow airline passengers. When asked why travelers chose to drive, 21% responded, "I have kids and it's easier to travel by car."
While it may be the simpler route, driving with small kids comes with its own set of considerations. For one, the vehicle must be able to safely and comfortably accommodate one or more car seats. According to the survey, nearly half of travelers plan to bring children along for the journey, and 63% will have one or two kids in car seats.
Best Cars for Car Seats
Minivans and mid-size SUVs may typically come to mind when thinking about family haulers, but Cars.com's annual Car Seat Fit Report Card can help families identify the best vehicle for car seat accommodations no matter what they're shopping for. SUVs dominated the honor roll for 2022: The Acura RDX, Audi Q5 Sportback, Cadillac XT5 came out on top, along with electrified options including the Ford Escape PHEV, Hyundai Tucson Hybrid, Kia EV6 and Volkswagen ID.4.
Can EVs Road-Trip?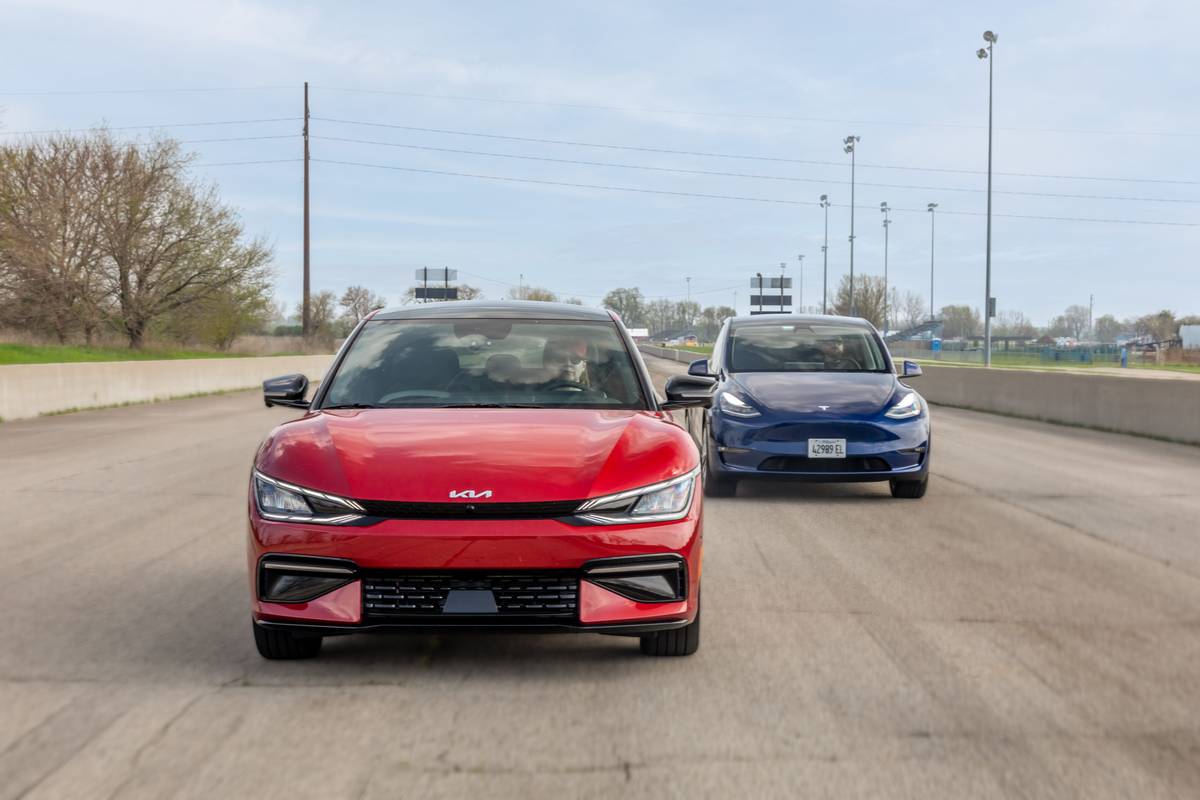 2022 Kia EV6 (left) and 2021 Tesla Model Y | Cars.com photo by Christian Lantry
All-electric cars may be overlooked as good road-trip vehicles due to their range limitations and charging requirement, but 10% of survey respondents say they'll drive one on their road trip over the holiday. Most know what they are getting into, as well — 79% have previously taken a road trip in an EV, and more than 50% take at least three trips a year.
Even as fuel prices fall, the biggest benefit of road-tripping in a battery-powered car is saving money on gas. Among those surveyed, 65% said fuel savings are the primary benefit, followed by environmental impact (58%) and a comfortable ride (56%).
Range Requirements
EVs can be especially accommodating for weekend travelers sticking close to home. Out of 64% of people who plan to travel, more than 50% are staying within 100 miles; a shorter trip minimizes the number of times drivers will need to find a public charger en route. Prospective EV owners who plan to venture farther from home should consider a longer-range model. Tesla occupies several of the top spots, though the Lucid Air currently heads the list at 520 miles.
Although luxury brands currently dominate the list of models with the longest range, mass-market vehicles are slowly offering more competitive range limits. The long-range Kia EV6 gets a maximum EPA-rated 310 miles, and the EPA rates the related Hyundai Ioniq 5 at a maximum of 303 miles.
Plan It Out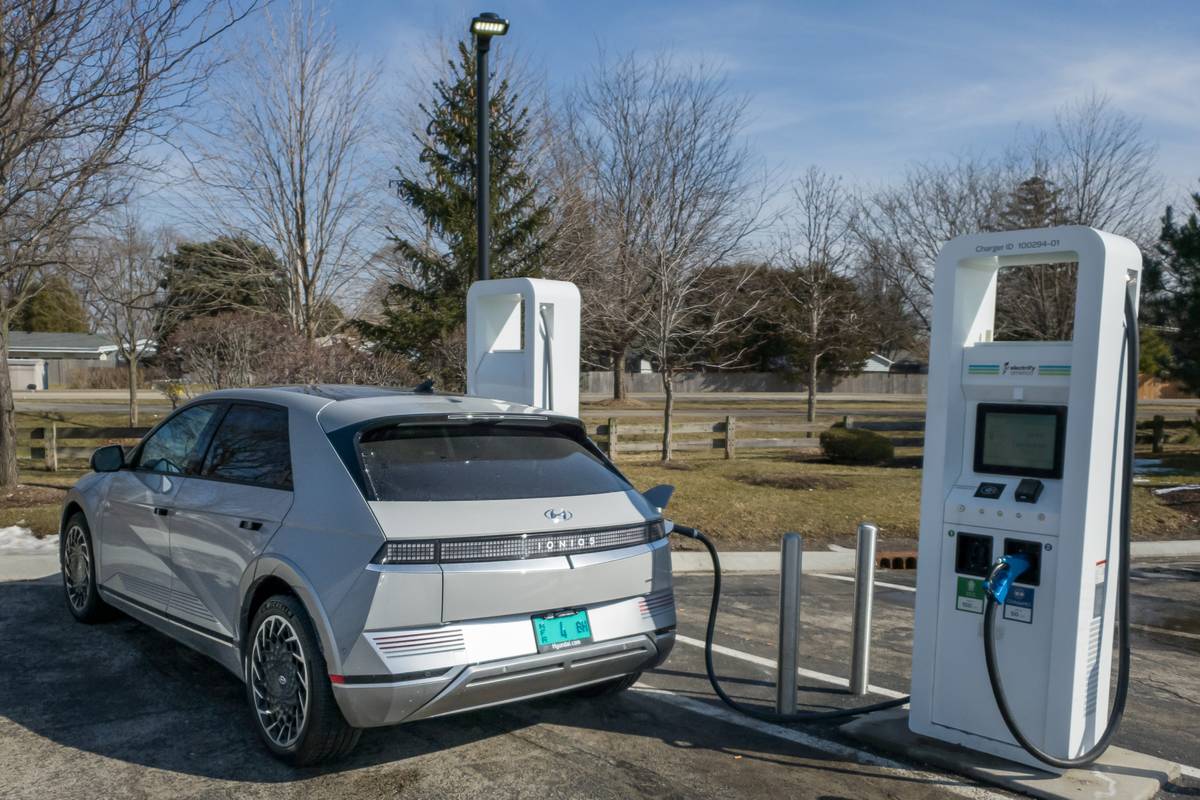 2022 Hyundai Ioniq 5 Limited at 150-kW DC fast charger | Cars.com photo by Joe Wiesenfelder
Based on the survey results, road-tripping in an EV brings several advantages over traveling in a gas-powered vehicle. There is a caveat, however: It takes more planning to map out charging stations prior to the trip and more time to charge the vehicle than it does to find a gas station and refill the tank in a gas-powered car. The good news is that the majority of EV owners report finding a charging location along the route is very (54%) or somewhat (44%) convenient.
According to survey results, 74% of EV owners map out charging stations along their route; that's notably higher than the 55% of gas-powered vehicle owners that map out gas stations prior to traveling. More respondents report using Level 2 charging stations (47%) than DC fast chargers (36%); Level 1 charging is the least popular option at 17%. However, taking a trip in an EV may require flexibility when it comes to their charging plans: Even as more public-charging stations are installed around the country, many owners struggle to find usable stations, according to a recent J.D. Power study.
Shoppers looking for a new car with future road trips in mind should consider their priorities, which may include overall affordability, fuel efficiency, range (in the case of EVs), cargo space or car seat accommodations. Focusing on vehicles that meet these qualifications can help narrow down the list of options and make road trips something to look forward to, not stress about.
More From Cars.com:
Related Video:
Cars.com's Editorial department is your source for automotive news and reviews. In line with Cars.com's long-standing ethics policy, editors and reviewers don't accept gifts or free trips from automakers. The Editorial department is independent of Cars.com's advertising, sales and sponsored content departments.