As demand for manufacturing workers grows and jobs become more technical, community colleges are developing their programs to keep up with industry changes.
Elgin Community College in Kane County plans a $55 million manufacturing center that will provide state-of-the-art classroom space for HVAC-R, mechatronics, industrial maintenance, energy management, computer numerical controls and welding programs. It will be built on the land adjacent to the college entrance that formerly housed the Colonial Cafe.
"The manufacturing industry is undergoing an industrial revolution … and the biggest driver of that is technology," said ECC Dean of Sustainability, Business and Professional Technologies Kathy Taylor. "Employers are looking for people who are trained for these highly skilled, in-demand jobs. Part of our goal with this manufacturing center is to make sure we can provide that training.
Across Illinois, about 660,000 people hold jobs in the manufacturing industry, earning an average salary of more than $80,000, said Sarah Hartwick, vice president of education and workforce policy for the Illinois Manufacturers Association.
But many jobs remain unfilled, Hartwick said, adding that there are 800,000 open jobs in the field nationwide.
"The No. 1 call I get from IMA members right now is we need people, and we need them to have the skills to work," she said.
Community colleges around the suburbs are responding by providing the necessary training to fill positions in manufacturing and distribution centers. Many community colleges are growing in popularity as automotive, welding, HVAC-R (Heating, Ventilation, Air Conditioning and Refrigeration) and other technical programs see year-over-year enrollment increases.
The welding program at ECC, for example, has about a dozen students on the waiting list for various classes this academic year.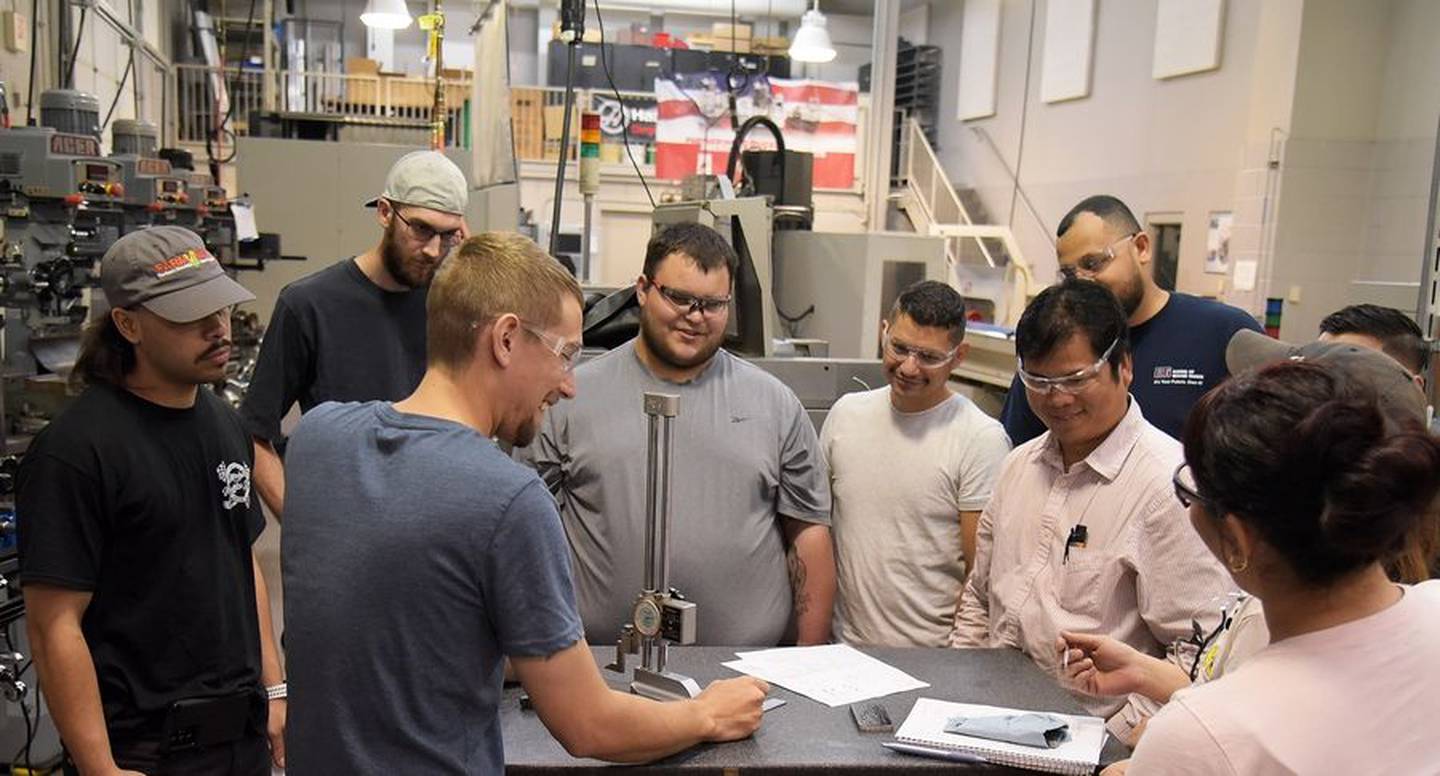 In some cases, the need for a skilled workforce has led to students entering the workforce before completing their program.
"Keeping them in the program can be challenging because employers need them right away," said Joanne Ivory, dean of career and technical programs at Harper Community College in Palatine.
Ivory said the college works with employers to ensure students who are hired can still complete the program to earn a certificate or credential.
Automation has changed the perception of manufacturing jobs as dirty and dangerous, Hartwick and other community college leaders said.
Instead of requiring people to pack goods manually, the industry needs skilled workers who can pack, freeze or assemble products using computerized automation systems.
"There's still a segment of the public that sees manufacturing as dirty and old and dark," Taylor said. "No. It's clean, it's high-tech and it allows people to work in the sectors that drive our economy."
Community college programs offer high school graduates a career path without heavy college debt, while technical courses and certificates provide a way for industry workers to train in new advancements or earn additional credentials.
"The importance of technical training today could not be more front and center," said Mark Bautista, associate vice president of workforce development and dean of business and career technology at Oakton Community College in Des Plaines.
Batista said many employers see community colleges as a way to keep their employees' skills sharp on new technologies. Many suburban community colleges are working with industry leaders to develop curriculum and programs to ensure students are getting the skills they need, training for jobs employers are looking to fill, and staying on top of trends.
As ECC moved to build its new manufacturing center, Taylor said, many of the jobs that students would be training for at that facility no longer exist.
Part of the college will be developing with the industry, she said.
"Technology is changing so fast that a company doesn't even know what they need five, six, seven years from now," she said.
https://www.dailyherald.com/news/20220906/community-colleges-to-train-students-for-high-tech-manufacturing-jobs