Lewiston is a city in northern Idaho found at the confluence of the beautiful Clearwater River and the Snake River. It has a population of close to 35,000, a bustling downtown area, and plenty of great outdoor exploration to enjoy on the city's doorstep. It's a great base for those keen to explore Hells Canyon, the deepest river gorge in North America and a big tourist attraction to the region.
It's encompassed by the Lewis Clark Valley, alongside the neighboring towns of Clarkson and Asotin. The valley offers an abundance of activities like hiking, mountain biking, fishing boating along the Clearwater and Snake rivers, and much more. Here is all the information on the best time of the year to travel to Lewiston, where to stay, where to find a good bite to eat (it's definitely not just potatoes in this Idaho city), and all the best things to do.
Best Time To Go to Lewiston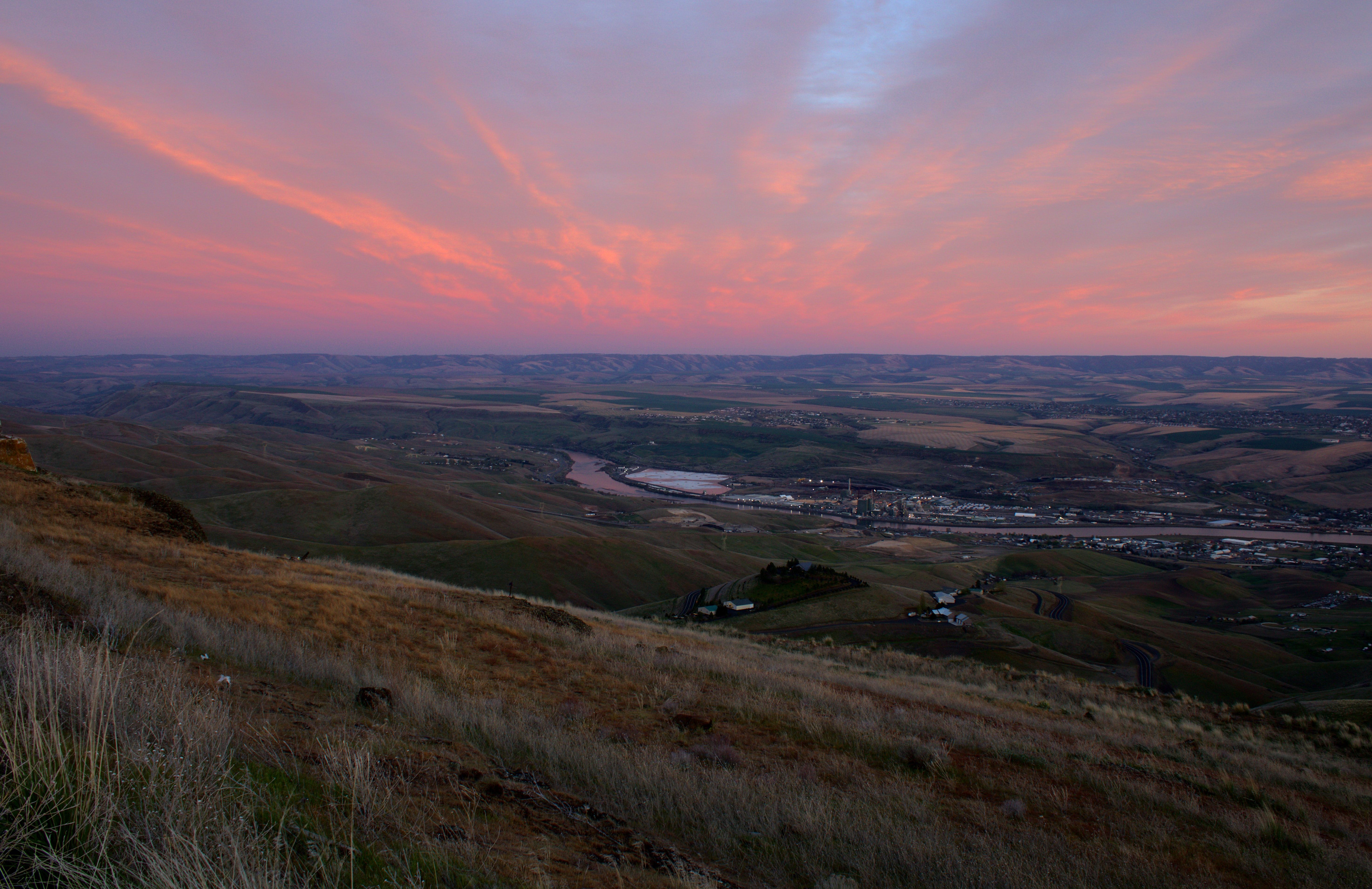 Sunset over Lewiston, Idaho by Ethan Grey
In general, July to September is the best time to visit Lewiston. In saying that, each season in Lewiston has its own appeal so the best time to visit very much depends on what visitors would like to see and do during their trip.
Spring: Spring is a great time to visit Lewiston for those interested in outdoor activities such as hiking and fishing. The weather is mild, with daytime temperatures typically in the 50s and 60s Fahrenheit, and the wildflowers are starting to bloom.
Summer: Summer activities in Lewiston include boating in Hell's canyon and swimming at river beaches like Chestnut beach and Beachview park. The temperatures during the summer can get quite warm, sometimes above 90F, but the area has also relatively low humidity, so it's still pleasant.
Related: 10 Beautiful Places To Go Birding in Idaho
Fall: Visitors can experience the exceptional fall colors in Lewiston's surrounding hills are beautiful, and the weather is typically mild, making it a great time for outdoor activities like hiking.
Winter: The area receives some snowfall and temperatures are generally below freezing, but it's not as cold as other places with a similar latitude.
Visitors may want to plan their trip around some of the Lewiston festivals and events, a big one for the community is the Lewiston Hot August Night's music festival, an annual event for the town since 1987 and typically takes place towards the end of August or the annual Lewiston Downtown Artwalk which celebrates the work of local artists.
What To Know When Visiting Lewiston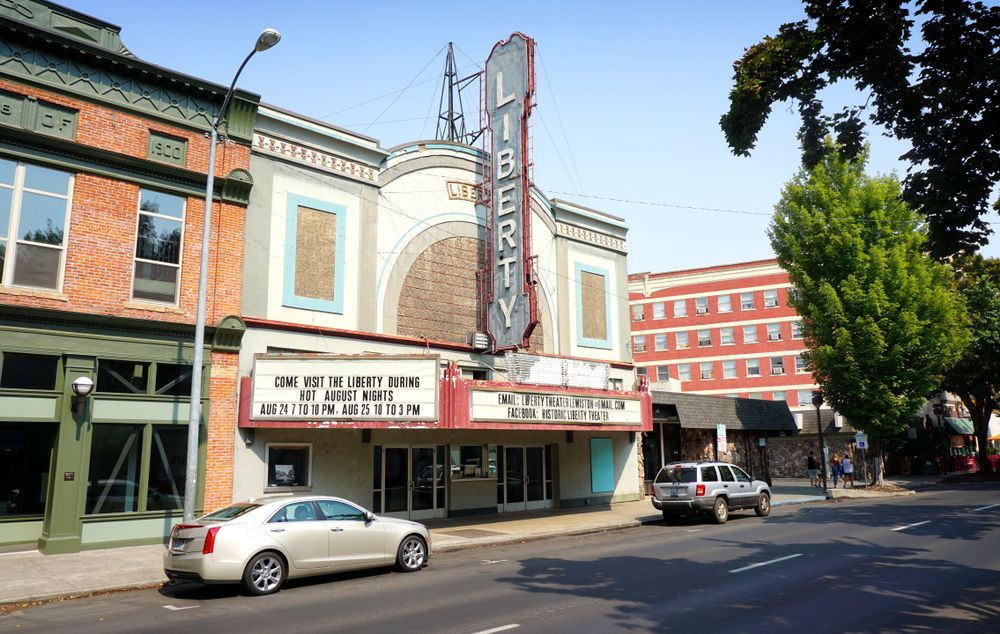 Historic Liberty theater in downtown Lewiston, Idaho.
Lewiston is served by a regional airport, Lewiston-Nez Perce County Regional Airport (LWS) that operates flights by both Delta and United Airlines. There are direct flights serving Denver and Salt Lake City.
The town is accessible via US Highway 95 and US Highway 195 for those traveling by car. The region offers very scenic drives.
Bus companies, Greyhound lines, and Northway Trails also provide bus services from other states to the area.
Related: Drive Mesa Falls Scenic Byway & See Idaho's Most Stunning Views
Lewiston shares a valley with neighboring towns, Clarkson and Asotin called the Lewis Clark Valley which acts as the path to the region's major tourist destination, Hell's Canyon.
The towns share a lot of events in celebration of their connected valley including a number of wine festivals that highlight the wines of the region.
Lewiston also hosts a month-long family-friendly festival annually in April called Dogwood, which has a multitude of events from dog shows, wine tastings, and arts and crafts displays.
Best Ways To Get Around Lewiston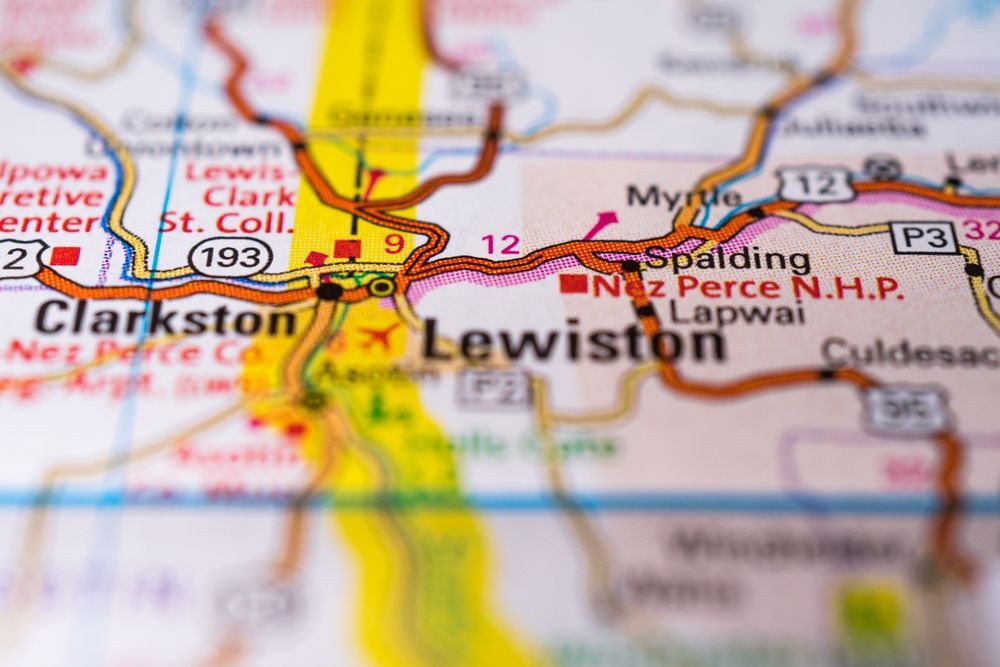 Map of Lewiston, Idaho and Clarkston
Bus
Lewiston has a public bus route service operated by the Lewiston Transport System and Asotin County PTBA that can be helpful for travelers moving about the town, it serves the downtown area which is home to great restaurants and cafes.
It has two loops, one in the east and one in the west of the city and there are connections available to other travel services east and west of the city like the Appaloosa Express.
Fixed route fares are available for $1.00 for adults, children under the age of 18 travel for free and seniors pay a half fare of $0.50.
Bike
Renting a bike is a great way to explore the historic downtown area and is also a good idea for those looking to explore some beautiful trails outside the city in the Lewis Clark Valley.
Bike rentals are available from North West River Adventures with an address on Snake River Avenue, Lewiston.
Rentals are available for $10 per hour.
Car
Car rental services are also available in Lewiston:
Enterprise Rent-A-Car
Address: 224 Thain Rd, Lewiston, ID 83501
Contact: 208-746-2878
Where To Stay In Lewiston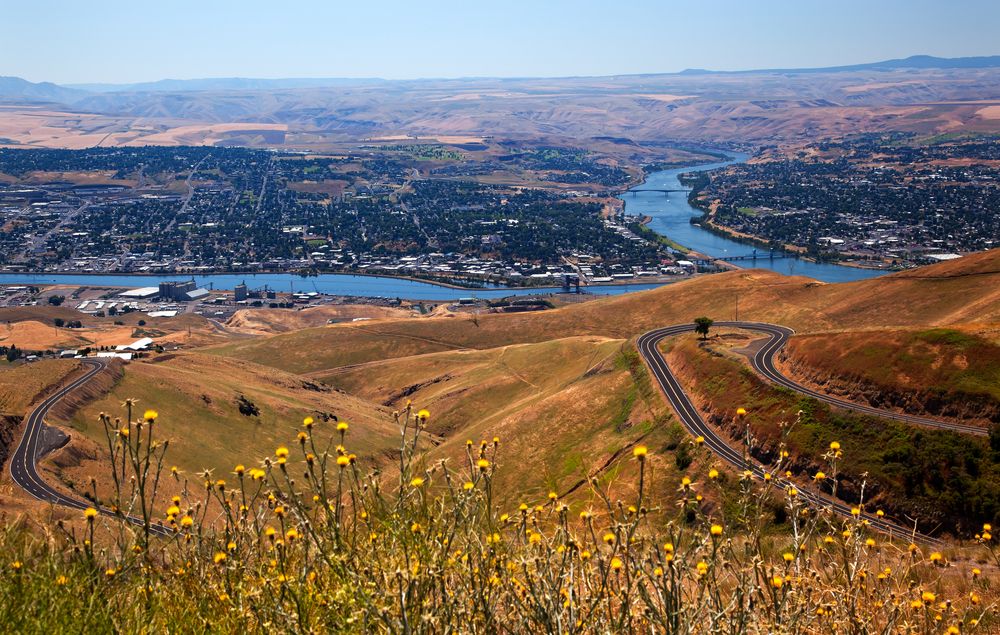 View of Lewiston Idaho and Snake River from Lewiston Hill
Lewiston has a number of highly rated hotels and budget hotels that are close to a lot of the city's main attractions. Here are some options:
Highly rated hotels in Lewiston
Hampton Inn Lewiston: Room rates at the Hampton Inn Lewiston start from $150 per night
Amenities: Indoor pool, fitness center, free hot breakfast
Address: 2701 Nez Perce Dr, Lewiston, ID 83501
Holiday Inn Express Lewiston, an IHG Hotel: Room rates at the Holiday Inn Express Lewiston start from $140 per night
Amenities: Pool, fitness center, free breakfast
Address: 2425 Nez Perce Dr, Lewiston, ID 83501
Hells Canyon Grand Hotel: Room rates at Hells Canyon Grand Hotel start from around $110 per night
Amenities: outdoor pool, on-site bar and restaurant
Address: 621 21st St, Lewiston, ID 83501
Budget hotels in Lewiston
Super 8 by Wyndham Lewiston: Room rates at Super 8 by Wyndham Lewiston start from around $60 per night
Amenities: Wifi, laundry facilities, free coffee and breakfast item
Address: 3120 Old N S Hwy, Lewiston, ID 83501
Quality Inn: Room rates at the Quality Inn start from $100 per night
Amenities: Indoor pool, breakfast, laundry
Address: 2128 8th Ave, Lewiston, ID 83501
FairBridge Inn & Suites Lewiston: Room rates at FairBridge Inn & Suites start from around $70 per night
Amenities: Free hot waffle deluxe breakfast, outdoor pool and hot tub, fitness room
Address: 1325 Main St, Lewiston, ID 83501
Seaport Inn and Suites: Room rates at Seaport Inn and Suites start from around $100 per night
Amenities: Two on-site restaurants, pub, laundry
Address: 701 21st St, Lewiston, ID 83501, United States
Related: Idaho The Potato State: Why Not Sleep In A Hotel Shaped Like One?
Where To Eat And Drink In Lewiston

Idaho offers up unique cuisine for every meal of the day.
Great Lewiston breakfasts to start the day:
Waffles n more, Wayback Cafe & Catering, Mystic cafe
Delicious lunches in Lewiston:
Brava's, El Sombrero Mexican Restaurant, Effie Tavern
Fabulous dinners in Lewiston:
Thai Taste Restaurant, Ernie's Steakhouse, Jollymore's
Best coffee shops in Lewiston:
The Blue Lantern Coffee House, Hot Shots Espresso – Main St., Shooting Star Cafe
Fun Bars in Lewiston:
Shooters Sports Bar, MJ Barleyhoppers Brew House, The Wrangler Bar and Grill
Best Things To Do In Lewiston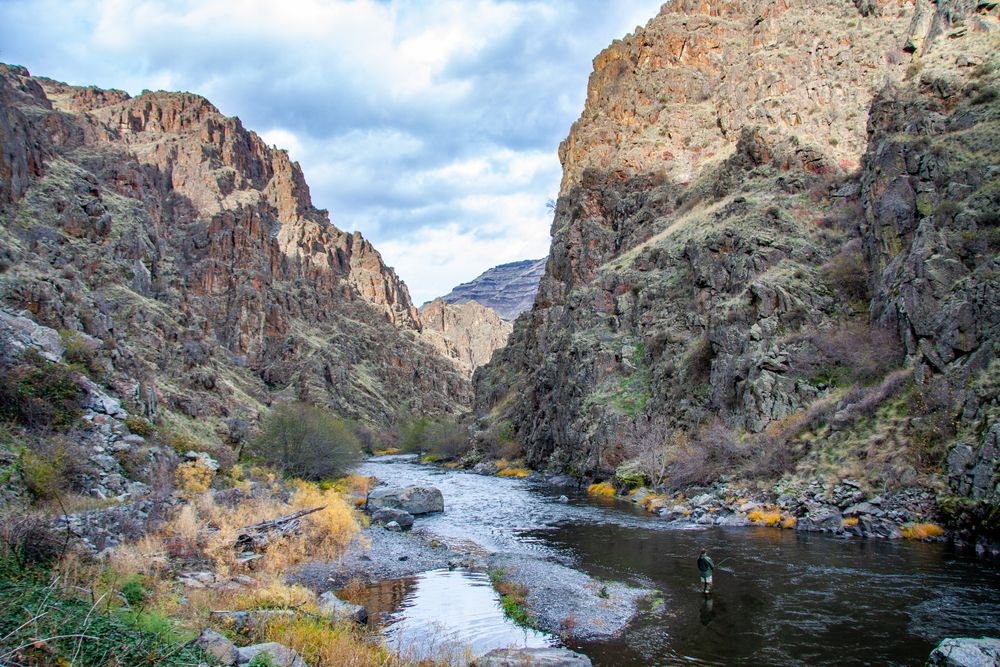 Fishing in Hell's Canyon recreation area
Lewiston and the Lewis Clark Valley are known for outdoor activities like hunting, fishing, mountain biking, and water sports and its downtown area is a wonderful place to pass the time for a chilled-out afternoon.
Take a boat trip to Hells Canyon
Boat on snake river in Lewiston, Idaho
Lewiston is a great base for exploring the beautiful natural wonder, Hells Canyon. Visitors can take a boat tour down Snake's river to see the deepest river gorge in North America.
Sample some Lewis Clark Valley Wines
In Lewiston, travelers can sample some unique award-winning wines from the Lewis-Clark Valley region. Wine-making here dates as far back as 1872 and the area has some of the lowest-elevation vineyards in the state (950ft).
Here are some great Lewiston wineries and wine tour operators:
Jovinea Cellars Tasting Room
Address: 301 Main St Suite#106, Lewiston, ID 83501
Clearwater Canyon Cellars
Address: 3143 10th Street, Lewiston, ID 83501
Twisted Vine Wine Tours
Address: 621 21st St, Lewiston, ID 83501
Bella Rose Vine Yard and Winery
Address: 1243 Ridge Rd Lewiston, NY 14092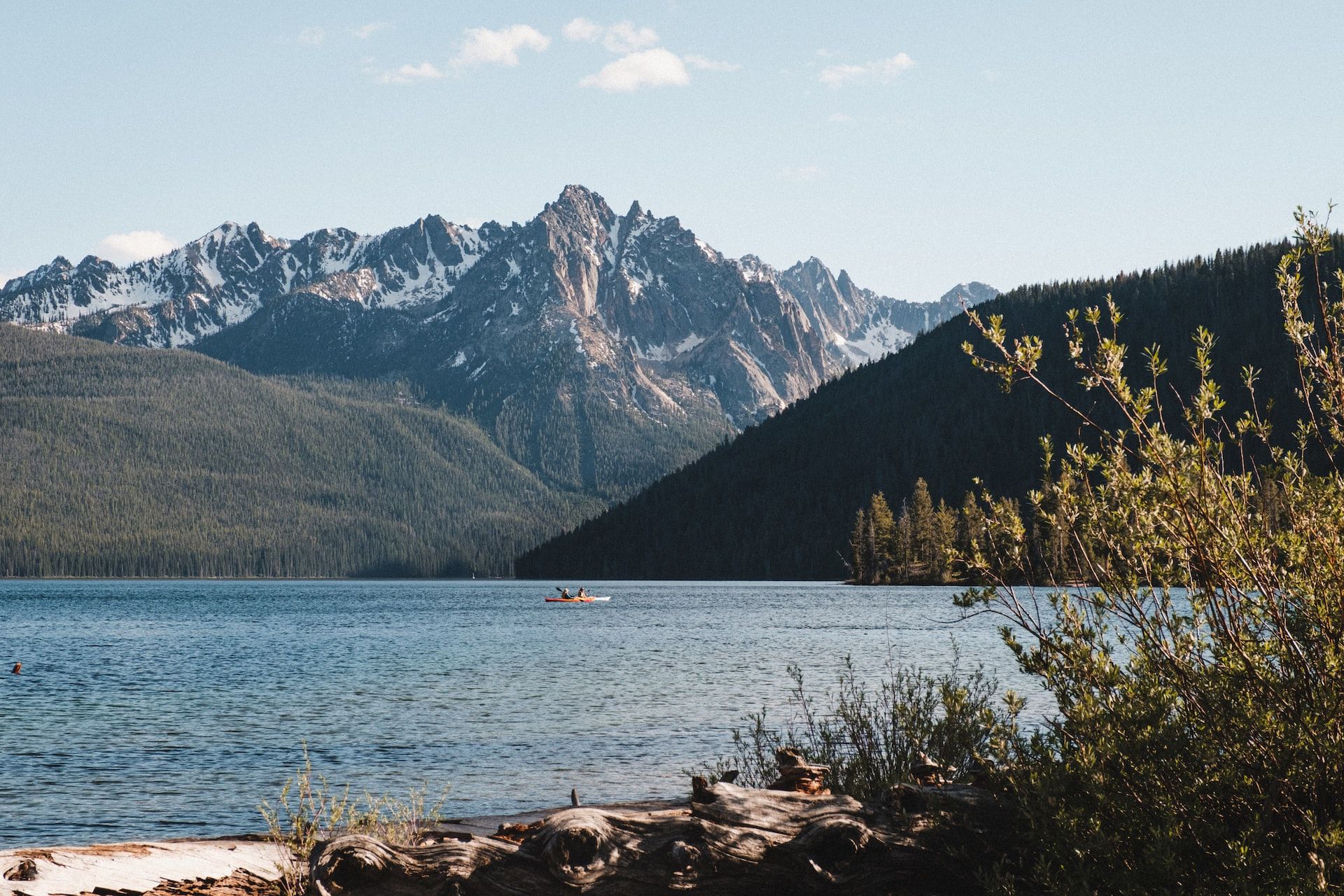 View of a kayaker on a lake in Idaho
Visit Hell's Gate State Park
Hell's Gate State Park is famous for its 14 million-year-old basalt columns, found at the park's south end, and is a fabulous place to explore by bike. It's also a great place to camp out with the family.
Admission: Motor Vehicle Entry Fee: $14 per vehicle and additional fees for camping
Address: 5100 Hells Gate Rd, Lewiston, ID 83501
Explore Downtown Lewiston
Downtown Lewiston is a wonderful place to explore with gift shops, coffee shops, and eateries to visit. Hop into the Newberry Square shopping to purchase some local crafts, art, and food.
Address: Main St., Lewiston, ID 83501
Check out some of Lewiston's great galleries and museums
Lewiston has plenty of museums and galleries where visitors can learn about the culture of the city and the Nez Perce people who are indigenous to the region.
Nez Perce County Historical Society and Museum
Admission: Adults $6.00, children 6-17 $4.00, 5 & Under Free
Address: 0306 3rd Street (Corner of 3rd St and Capital St.), Lewiston, ID 83501
LCSC Center for Arts and History
Admission: Free
Address: 415 Main St, Lewiston, ID 83501
Spend the day with the family in Kiwanis Park
With a playground, picnic tables, and beautiful views next to a great trail called the Clearwater-Snake River National Recreational Trail — another great place for hikes and walks.
Address: 806 Snake River Avenue, Lewiston, ID 83501
The Perfect Day Spent In Lewiston
An aerial view of a road in Snake River Canyon in Idaho
The Perfect Day in Lewiston starts off with coffee from the Blue Lantern Coffee Shop. Have a browse around the beautiful downtown area before an afternoon spent on the Snake River ready to explore Hell's Canyon by boat.
Related: 8 Idaho State Parks To Add To Your Scenic Bucket List
In the afternoon, schedule a wine tasting to try out some of the best wines in the Lewis Clark Valley region in Jovinea Cellars. Make a reservation with Ernie's Steakhouse for a great meal to finish off a fabulous day of exploration, food, and wine in Lewiston.
FAQ
Q: What is Lewiston Idaho known for?
Lewiston is a city in northern Idaho known for its access to Hell's Canyon, the deepest river gorge in North America. The city is encompassed by the Lewis Clark Valley which offers visitors an array of outdoor activities like hiking, biking, fishing, hunting, and water sports.
Q: Does it snow in Lewiston Idaho?
Lewiston Idaho receives snowfall in the winter months from December to early February. The city experiences around 13 inches of snowfall per year.
Q: What river runs through Lewiston Idaho?
Two rivers run through Lewiston, ID: the Snake and Clearwater Rivers. Idaho is also home to the Salmon River, the longest US river that is encompassed within a single state.