Just a 35-minute ferry ride west of Seattle sits the island and city of Bainbridge Island. In the middle of Puget Sound, Bainbridge overlooks the Cascade Mountains and is a favorite for nature lovers. This idyllic Pacific Northwest island combines natural beauty with plenty of museums, parks, and restaurants to keep all types of travelers busy.
Bainbridge Island is the small town getaway from the hustle and bustle of Seattle.
Best Time To Go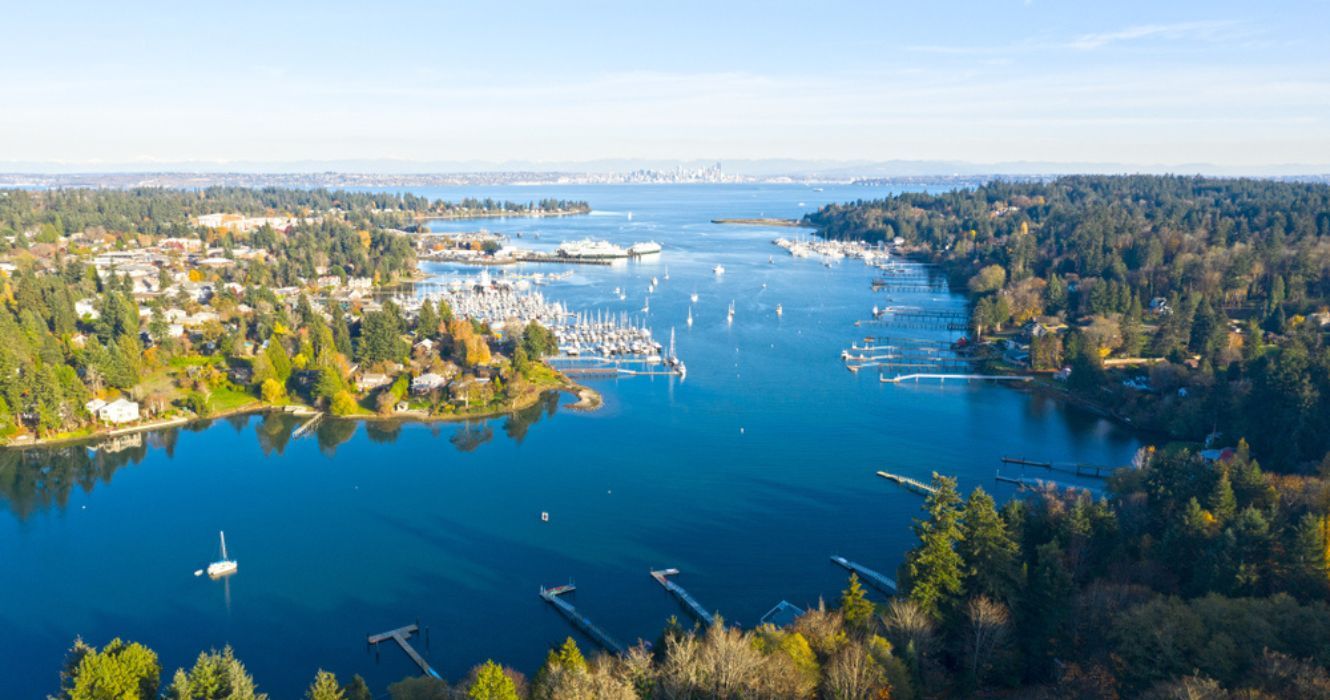 A wide aerial view of Bainbridge Island Harbor in Washington
It is the PNW (Pacific Northwest); rain and clouds will happen. Although the mist tends to add to the effect of the grand moss-covered trees, typical of the area.
But, for those looking for a drier time to enjoy Bainbridge, June and August are the months to go. Not surprisingly, these are also the most popular months for tourists.
August coincides with the height of tourism season, so accommodations will likely be more expensive.
Related: Cascade Range: The Best Of The PNW's Rugged Beauty
It does get humid in the summer due to the proximity to the Sound. But for less cloudy days it is a worthwhile trade-off. Blue skies go a long way in enjoying the region.
On clear days the Cascade Mountain Range and the iconic Mount Rainier can be seen peaking over the calm water.
What To Know When Visiting
The island has a complicated history. It was one of the ancestral homes of the Suquamish people. In the 1850s, land rights were exchanged from the tribe to the U.S. government, in return for fishing rights of the Sound and a Reservation in Port Madison Washington.
Since ratification the government has broken the treaty multiple times, requiring the Supreme Court to step in and reaffirm the Suquamish peoples' rights.
When visiting Bainbridge Island it is important to understand the history and if possible make more space for the indigenous people of Puget Sound.
Related: 10 Must-See Places In Seattle That Should Be On Your Bucket List
Consider taking the short drive north o the island to the Suquamish Museum, a great source of education for visitors and locals. If visiting and enjoying the amazing beauty of this historical island, consider donating to the Suquamish Foundation; as these people were caretakers of the land long before the treaties.
The foundation funds the original stewards of the island in cultural and educational efforts.
Best Ways To Get Around
First things first: getting to Bainbridge Island. The easiest and fastest way is by ferry boat. Day-trippers can walk on, while those with cars can drive on and enjoy the views from the deck.
It is possible to drive onto the island, but going across by ferry allows visitors gorgeous views, possible wildlife sightings, and a chance to smell that fresh sea air.
No need to make a reservation, these huge boats have space enough for 200 cars and 2,500 passengers. Make sure to get to the pier early just in case.
Ferry Boat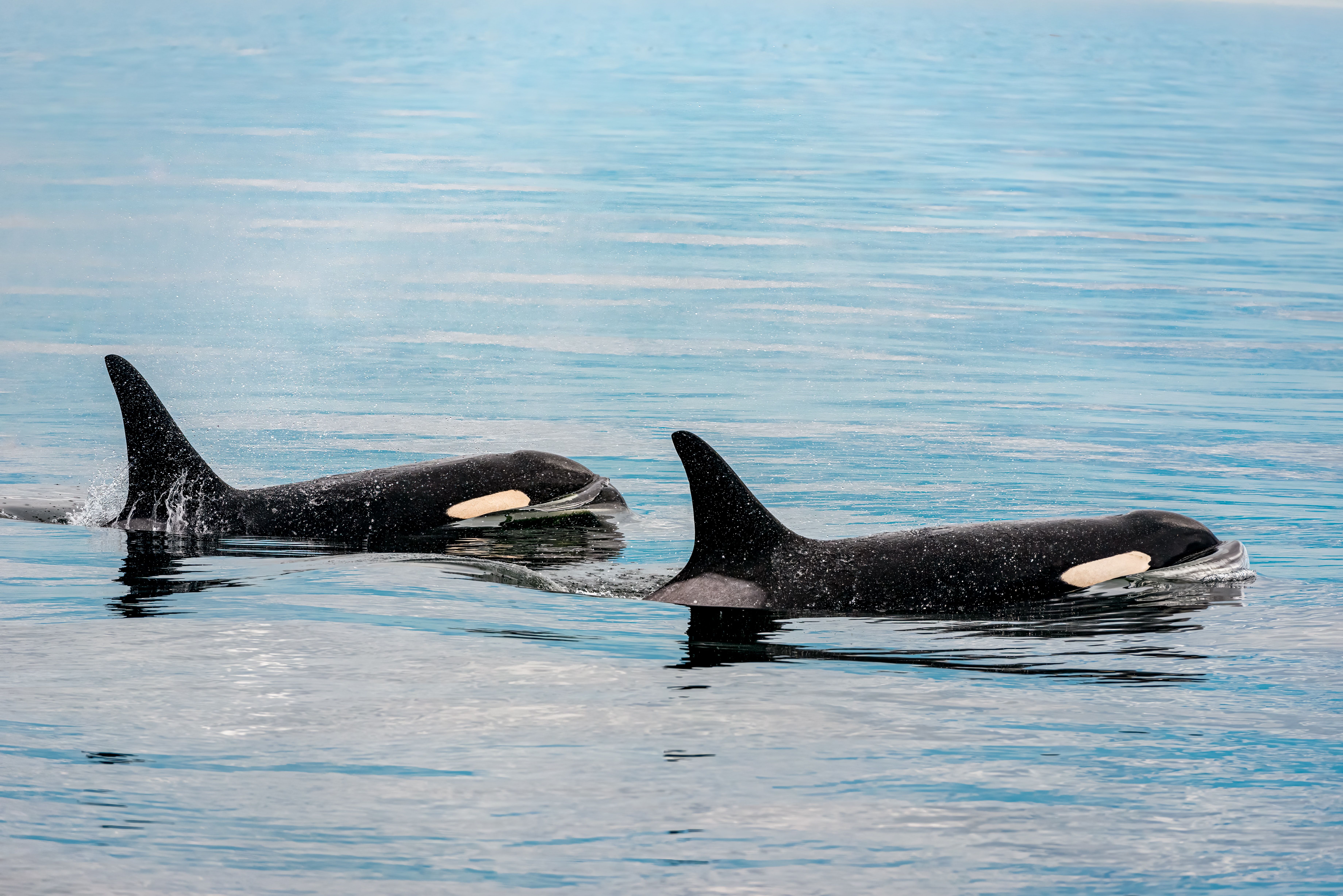 Orcas in the Puget Sound, Wahington
Walk-on Fare: $9.25 (Adult Tickets); 4.60 (Elderly/Kids/People with disabilities)
Drive-on Ferry Fare: $20.90 (For most passenger cars)
Address (Departing Seattle): Colman Dock, Pier 52, Seattle
Address (Departing Bainbridge): 270 Olympic Drive SE Bainbridge Island, WA 98110
Note: Fares back to Seattle are free for passengers but not for automobiles.
Bike
The island is easily navigable by bike. It is possible to peddle onto the ferry or rent one once docked. Bikers don't even have to stick to the paved road. Bainbridge has tons of biking trails for riders to get into the natural beauty the island is known for.
The Bike Barn rents out electric, hybrid, and road bikes, and is conveniently located next to the ferry terminal. Seriously consider a hybrid or electric, as Bainbridge Island is hilly.
Electric Bike Rental: $65 (2hr); $90 (Full day)
Hybrid Bike Rental: $30 (2hr); $40 (3-8hrs); $75 (2 days); $90 (3 days); $175 (weekly)
Road Bike Rental: $80 (1 day); $145 (2 days); $350 (weekly)
There is a public bus system, the Kitsap transit, that goes to and from the ferry and around the island. However, the reviews for the system are not good.
Car
While flyers could rent a car at the Seattle airport, there is a more unique option available on Bainbridge Island. Through PacWesty, Volkswagen Vanagons are available for rent, equipped with all the gear for an epic road trip or night out camping.
While expensive, with all the gear it is essentially a hotel on wheels.
Deposits: $1500 (Security); $500 (Booking)
Westfalia Vanagon Rentals: Starting at $195/night (Depending on season)
eTofino Vanagon Rentals: Starting at $225/night (Depending on season)
Included w/van: A lot! All the kitchen supplies campers may need, sleeping bags, pillows, blankets, power source, cooler, etc. A full list can be found on PacWesty's website.
Related: 10 Quirky Roadside Attractions In Washington Worth A Road Trip
Where To Stay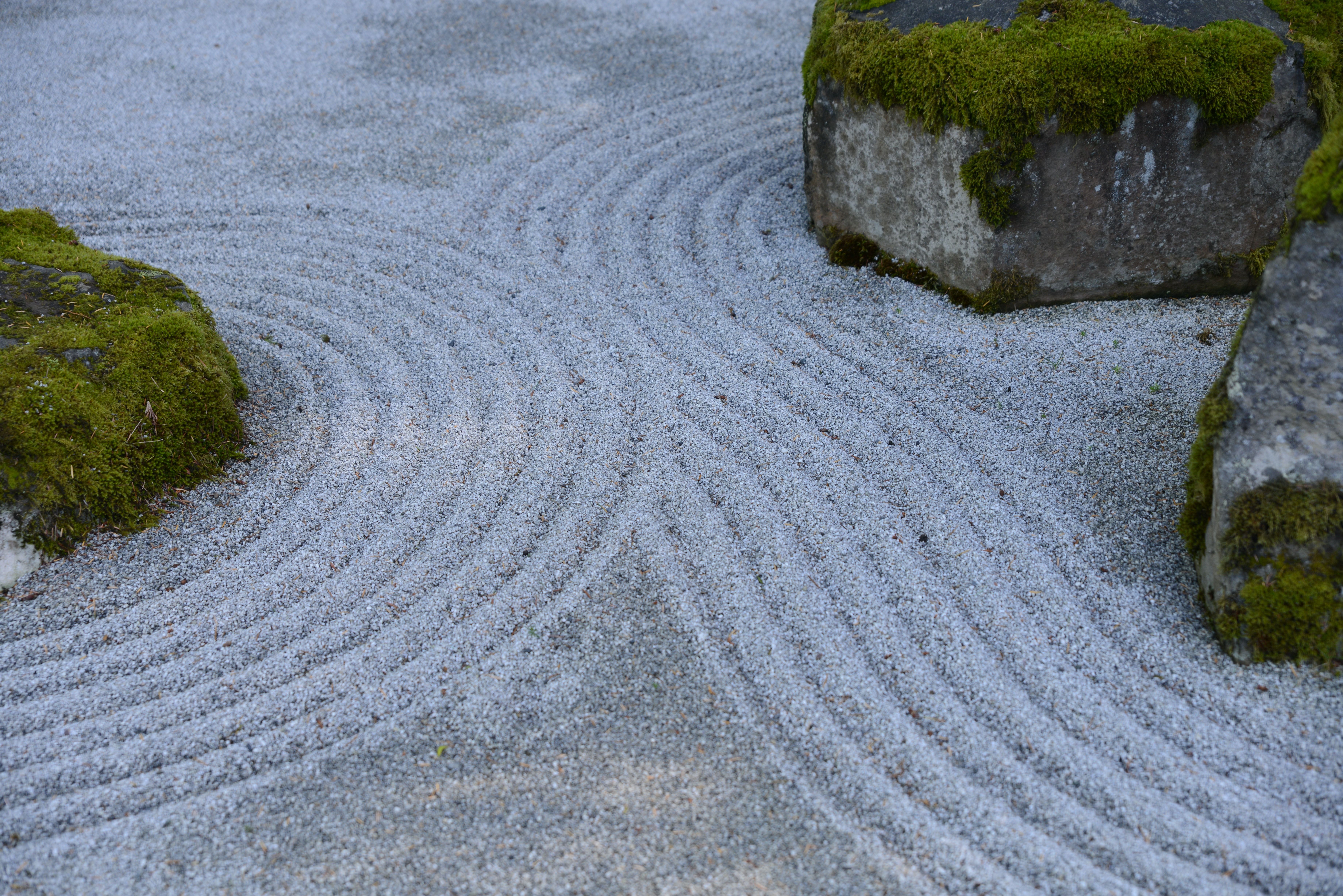 Japanese Garden Bloedel Reserve, Bainbridge Island, WA
The island is small and easily navigable, meaning the area in which visitors are not limited. Although the south end of the island, the Fort Ward area, does have lovely hiking trails.
However, near the downtown, also called Winslow, is where most of the museums, hotels, and restaurants are for those without a car. With Seattle a short ferry ride away, travelers can sleep in the city and take a day trip over to the island.
But, the island itself does have a few hotels, inns, and other interesting accommodation options for tourists wanting to experience the small-town life.
To stay on Bainbridge, without camping or sleeping in a Vanagon, check out nearby accommodations.
High-end Accommodations:
SailBainbridge Sailboat
If memory serves, the nautical term for staying on a yacht is being "fancy-schmancy". For travelers willing to splurge, a night onboard this classic-style yacht will provide a unique and special stay.
Included with the accommodation is a 2-hour sunset cruise of Puget Sound. SailBainbridge offers other excursions, as well as the night at sea.
Price: $925 (up to 6 guests)
Address: Harbour Marina: 233 Parfitt Way SW, Bainbridge Island, WA
Includes: Sunset Cruise and breakfast
Departure time: 6 pm (Captain takes guests back to shore at 9 am)
Skiff Point Guest House and Retreat
For those who want a nice and homey vibe, Skiff Point Guest House is a great option. This cute retreat offers two fully equipped guesthouses, The Loft Suite and The Carriage House.
It offers the comfort of a home with the views and style of Bainbridge. Note: It is a 2-night minimum, during parts of summer 3-night, stay here.
Price: ~$250/night (Suites sleep 4-6 people)
Address: 11040 NE Mountain View Road Bainbridge Island, WA
Suites include: A complete kitchen, DISH TV, a garden, and a deck
Mid-tier Accommodations:
The Marshall Suites
A more affordable boutique hotel is the Marshall Suites. This option is perfectly located near downtown Winslow, the Puget Sound, and close to the Bloedel Reserve.
Price: Starting at $190/night
Address: 350 High School Rd NE Bainbridge Island, WA
The Bloedel Reserve on Bainbridge Island, Washington
The Eagle Harbor Inn
This charming inn has five uniquely styled rooms and two townhouses, isolated by a courtyard. The rooms have a perfect view of the water, great for a romantic getaway.
Price: Starting at $200/night
Address: 291 Madison Ave S., Bainbridge Island, WA
Related: How To Plan The Perfect Vacation In Washington State's Picturesque San Juan Islands
Budget Accommodations
A Hobbit House
Travelers don't need to fly to New Zealand to experience hobbit life. One of the more quirky accommodations found on Bainbridge is this small hobbit hole dug into the earth for a fantastical glamping experience.
Of course, it comes with a real hobbit…cardboard cutout.
Price: $126/night
Address: 3 miles north of the ferry terminal, along highway 305 (exact location provided when booking)
Bainbridge Island Country Inn
This inn is motel-style with exterior doors. But, the cute facade and cozy rooms live up to the inn moniker. Located very close to Winslow, makes it a great budget option for visitors.
Price: Starting at $125/night
Address: 920 Hildebrand Ln NE, Bainbridge Island, WA
Where To Eat On Bainbridge Island
Breakfast:
Pegasus Coffee
There are plenty of people on the island early-rising for hikes, paddles, and those beautiful sunrises over the Sound. They have to eat somewhere good, like Pegasus Coffee. It could easily be mistaken for a pub in some small Irish village, with its ivy-covered exposed brick facade.
They are most famous for their coffee, being named one of the best coffee shops in the world by the Financial Times. They even offer one-on-one coffee coaching and a coffee starters kit.
For food, they do have soups, yummy breakfast sandwiches, and other morning staples.
Price: $
Hours: 7 am-5 pm (Sun-Thu); 7 am-6 pm (Fri-Sat)
Address: 131 Parfitt Way SW, Bainbridge Island, WA
Lunch:
Hi Life
Hi Life is right in downtown Winslow and serves up Japanese cuisine, poke bowls, and desserts. The island of course has great seafood, but Hi Life seems to rise above the rest.
Their most popular dish is the poke shokado, which is a sampler box of their poke and appetizers. And, a place has to be good when they have to bottle their sauces because customers enjoyed them so much.
Price: $$
Hours: 11 am-7 pm (Every day)
Address: 220 Olympic Dr. SE Bainbridge Island, WA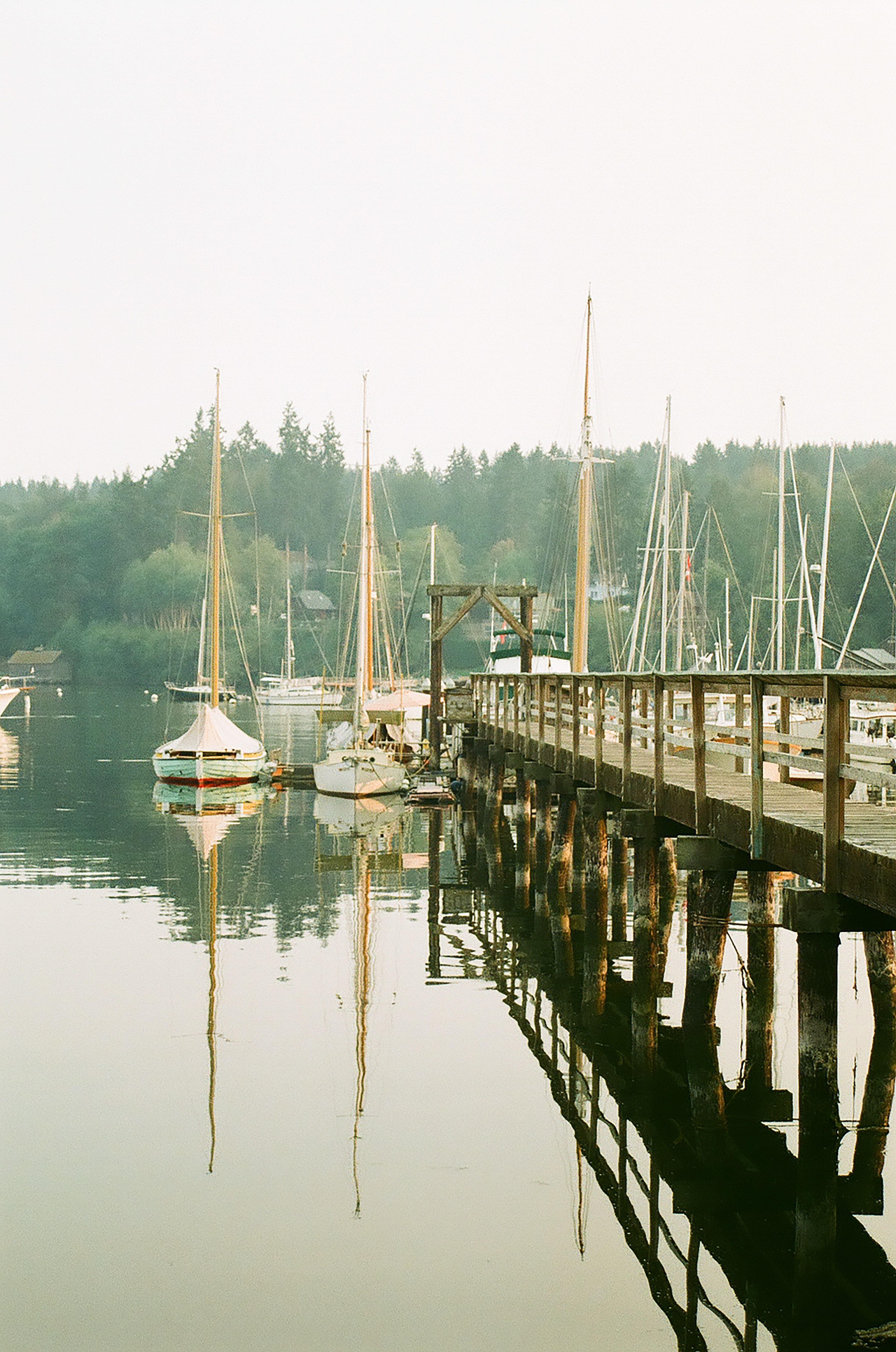 Bainbridge Island pier 
Dinner:
Heyday Farm
This is an actual functioning, sustainable farm that serves food out of their farmhouse. While upstairs in the house is for individual parties, the main floor is all community-style seating.
Of course, the farm uses local and seasonal ingredients, often their own, for a truly Bainbridge experience. The experience, ambiance, and food mean that tables are sought after, so consider making a reservation beforehand.
Price: $$$
Hours: 4:30 pm-9:30 pm (Thu-Sun)
Address: 4370 Old Mill Rd NE, Bainbridge Island, WA
Drink:
Bainbridge Organic Distillery
What's that? Not a fan of whiskey? No worries, Bainbridge Organic Distillers has gin. Not a gin person? They also make vodka. There is something for everyone (except kids) at this family-owned and run distiller.
Keeping with the theme of sustainability on the island, they only use organically grown crops. They offer a tour of the distillery followed by a tasting.
Price: $$
Hours: 12 pm-5 pm (Wed-Sun)
Address: 9727 Coppertop Lp NE Ste 101 Bainbridge Island, WA
Other Popular Spots:
Marketplace (Coffee/Deli/Taproom)
Bainbridge Island Brewery
Bruciato (Pizza/Italian)
Seabird (Seafood/Tapas/Bar)
L'Atelier TR (Bakery/Chocolatier)
Top Things To Do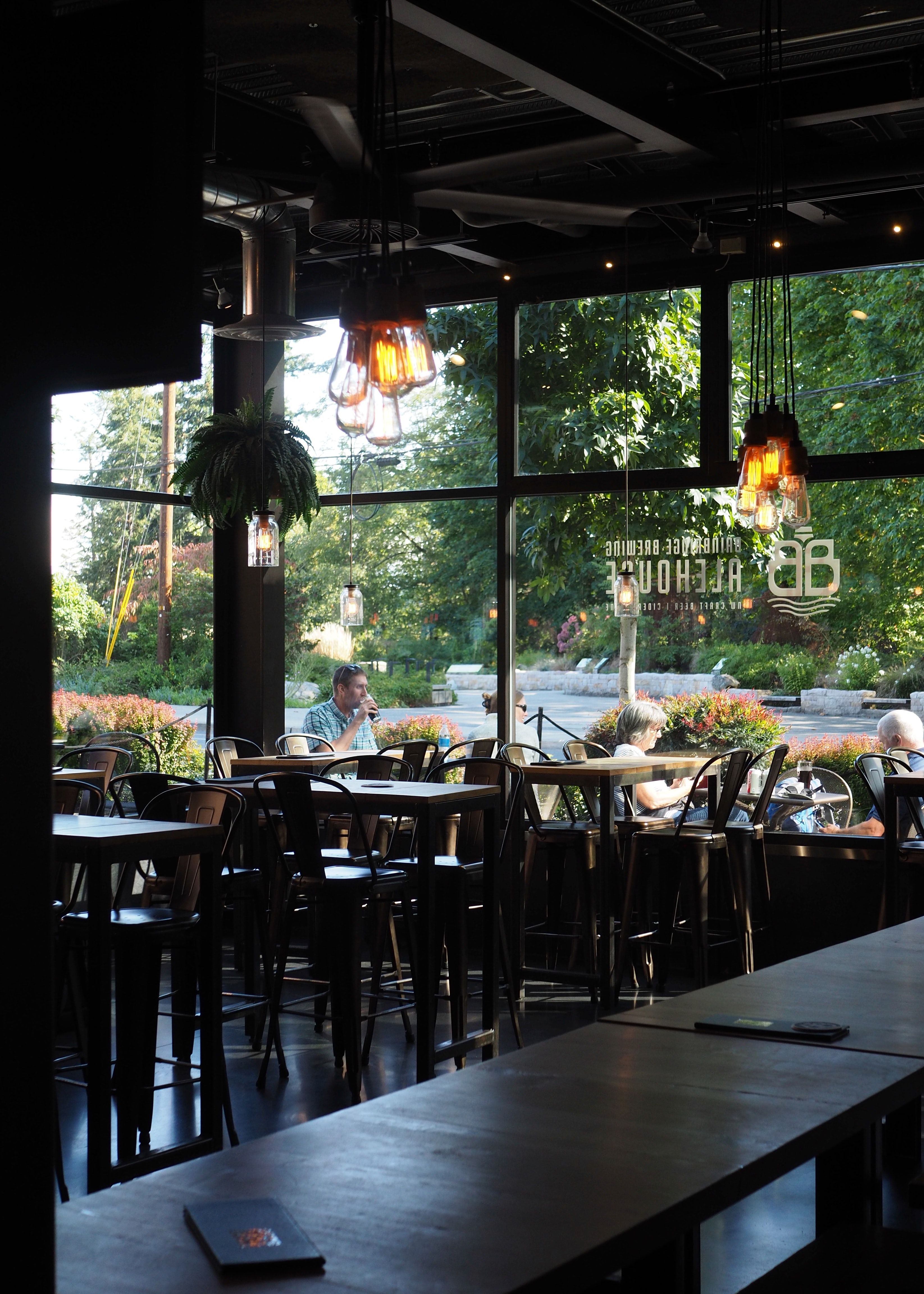 Brewery on Bainbridge Island, Washington 
Bloedel Reserve
The Bloedel Reserve is a 150-acre forest and garden at the north end of Bainbridge. While the island is renowned for its ocean views, this green space has an amazing amount of diverse landscapes and trails tucked inside.
The section easily transforms from a Japanese garden to a pollinator meadow or moss garden, just to name a few. Visitors do have to buy timed tickets (have to enter at a certain time), and it is recommended to spend at least two hours ambling through the reserve.
Ticket Price: $20 (Adult); $15 (Military/Senior); $10 (Student/College); $5 (Children 5-12); Free (Children under 4)
Hours: 10 am-4 pm (Tue-Sun)
Address: 7571 NE Dolphin Dr, Bainbridge Island, WA
Note: Arrive during the allotted time. Visitors can enter up to 45 minutes after that time.
Shop
If travelers need to get out of the rain there are plenty of shops to stock up on souvenirs:

Bay Hay and Feed:
Address: 10355 NE Valley Rd. Bainbridge Island WA
Hours: 9 am-5 pm (Mon-Sat); 10 am-4 pm (Sun)
Sells: Old-fashioned general store with a market and specialty gifts.
Eagle Harbor Book Co:
Address: 157 Winslow Way E, Bainbridge Island, WA 98110, USA
Hours: 10 am-6 pm (Every day)
Sells: Books with a section for books and maps of Bainbridge
Churchmouse Yarns and Tea:
Address: 118 Madrone Lane N, Bainbridge Island, WA
Hours: 10 am-6 pm (Sat-Wed); 10 am-8 pm (Thu-Fri)
Sells: Yarns and Teas (of course), with other accessories and craft goods
Danger:
Address: 285 Winslow Way E, Bainbridge Island, WA 98110, USA
Hours: 10 am-5 pm (Mon); 10 am-5 pm (Wed-Sat); 11 am-4 pm (Sun)
Sells: Various goods made only by local artists
Backstreet Beat:
Address: 265 Winslow Way E, Suite 102, Bainbridge Island, WA
Hours: 11 am-5 pm (Tue-Sat); 12 am-5 pm (Sun)
Sells: Used Vinyl Records, CDs, and Books
Bainbridge Island Japanese American Exclusion Memorial

This memorial was built to remember the Japanese community that was forcibly removed from Bainbridge during the Second World War. It is located where the Eagle point ferry took 227 Japanese immigrants, and many American citizens, to Seattle and then on to an internment camp in the California desert.
It is an ugly and important event of Bainbridge's past, that is remembered through the memorial. Stunning wood carvings and name placards of those who were taken adorn the powerful memorial.
Price: Free (Visitors can donate to the Bainbridge Island Japanese American Community Non-Profit here)
Hours: 9 am-5 pm (Every day)
Address: 4195 Eagle Harbor Dr. NE, Bainbridge Island, WA
Winery Tour
For wine connoisseurs, Bainbridge has many wineries to sample. Consider a guided tour through Tour Bainbridge. Their winery tour was voted one of the best experiences in Bainbridge.
It is pricey but includes visits and tastings with a guide at three of the island's wineries, transportation, and a gourmet dinner.
Price: $200/person
Duration: 4 hours
Whale Watching
Whale watching is popular all around Puget Sound. For Bainbridge specifically, all travelers really need is a good spot on the ferry.
Wildlife sightings are not only possible from the passenger deck but are likely.
Wildlife enthusiasts may not even have to get on a boat to see animals. Fay Bainbridge Park lies on the northeast point of the island and is a part of the "Whale Trail", a series of sites along the west coast known for these gentle giant sightings.
While walkers almost always see seals, sea lions, and otters in this spot, whales are fairly common.
Price: Free (Whale Trail)/Cost of a ferry ticket to the island
Hours: 6 am-9 pm (Every day)
Address: 15446 Sunrise Drive NE, Bainbridge Island, WA
Kayak Tours
One of the big draws for travelers going to this area is the gorgeous Puget Sound. Sometimes called the "America's Serengeti", this waterway is full of whales, dolphins, seals, and other marine wildlife. Bainbridge offers visitors a chance to see wildlife, at a safe distance, through kayak tours.
Exotic Aquatic provides rentals and various tours that take paddlers along the island's rocky coastlines, tide pools, and harbors. It is fairly common to see lots of birds and even turtles and otters. They have different routed tours that wind through all parts of the island; some of the most popular:
Blakely Rocks Picnic Paddle: 4 hours; $200
Full Moon Paddle: 1.5 hours $62.50
Blakely Harbor Paddle: 2 hours, $75
For the more advanced divers, Exotic Aquatic offers SCUBA gear rentals, group dives, and trips. For these, divers must hold at least an open water certificate. If staying for a while, visitors can take SCUBA classes through them as well.
Hours: 10:30am-5:30pm (Mon, Wed, Thu, Fri); 9:30am-5pm (Sat); 11am-4pm (Sun)
Address: 328 Madison Ave N, Bainbridge Island, WA 98110, USA
Labyrinth Walk
Being in nature is well and good, but now it's time to be at one with nature. The meditative Hall's Hill Lookout and Labyrinth can help. This small piece of land has a view of the Blakely Harbor and Seattle, as well as art installations meant to reflect the space it is in.
A stone labyrinth, which has long been used for meditative walking, sits in the center. With twelve rings the local stones are meant to reflect the seasonal and lunar cycles, as well as connect to the Bronze prayer wheel nearby.
Traditionally those wishing to end others suffering turn the wheel for seven revolutions. This area is a perfect reset for travelers who have been hustling or frequent meditators.
Price: Free
Hours: 24/7
Address: NE Halls Hill Rd, Bainbridge Island, WA
Related: A Guide To The Amazing Marine Life Found At The Seattle Aquarium
Best Hikes In Bainbridge Island, WA
The Pacific Northwest is one of, if not the most, naturally beautiful parts of the country. Bainbridge Island is no different. Get out into nature with one of the many hiking trails Bainbridge has to offer.
Grand Forest Park Trail (part of the Grand Forest West trail system)
This relatively flat trail is a favorite among locals and tourists. The hike is great for all ages, and especially popular with families. The Grand Forest Park trail takes hikers, bikers, and even horseback riders, on a loop through the tall trees the region is known for.
Distance: 2.2 miles (loop)
Total Hiking Time: ~55min
Difficulty: Easy
Hiking Trail on Bainbridge Island, Washington 
Westward Shore (or Close) Trail
This quieter and short hike goes up through the trees and descends to the rocky beach and Puget Sound. It is the best of both worlds. The trailhead is located right inside the Gazzam Lake Nature Preserve, which is home to many of the island's trails.
Distance: 0.7 miles
Total Hiking Time: ~20min
Difficulty: Moderate
Related: Hiking Mount Rainier Doesn't Need To Be A Challenge, Here Are The Easiest Hikes
Fort Ward to Blakely Harbor Trail
This trail links the Fort Ward and Blakely Harbor parks. Hikers walk beneath the canopy of giant first and second-growth Douglas Firs and Big Leaf Maple trees. The trail is relatively easy and is often full of wildlife.
Distance: 1.25 miles
Total Hiking Time: ~30
Difficulty: Easy/Moderate
How To Spend a Perfect Day In Bainbridge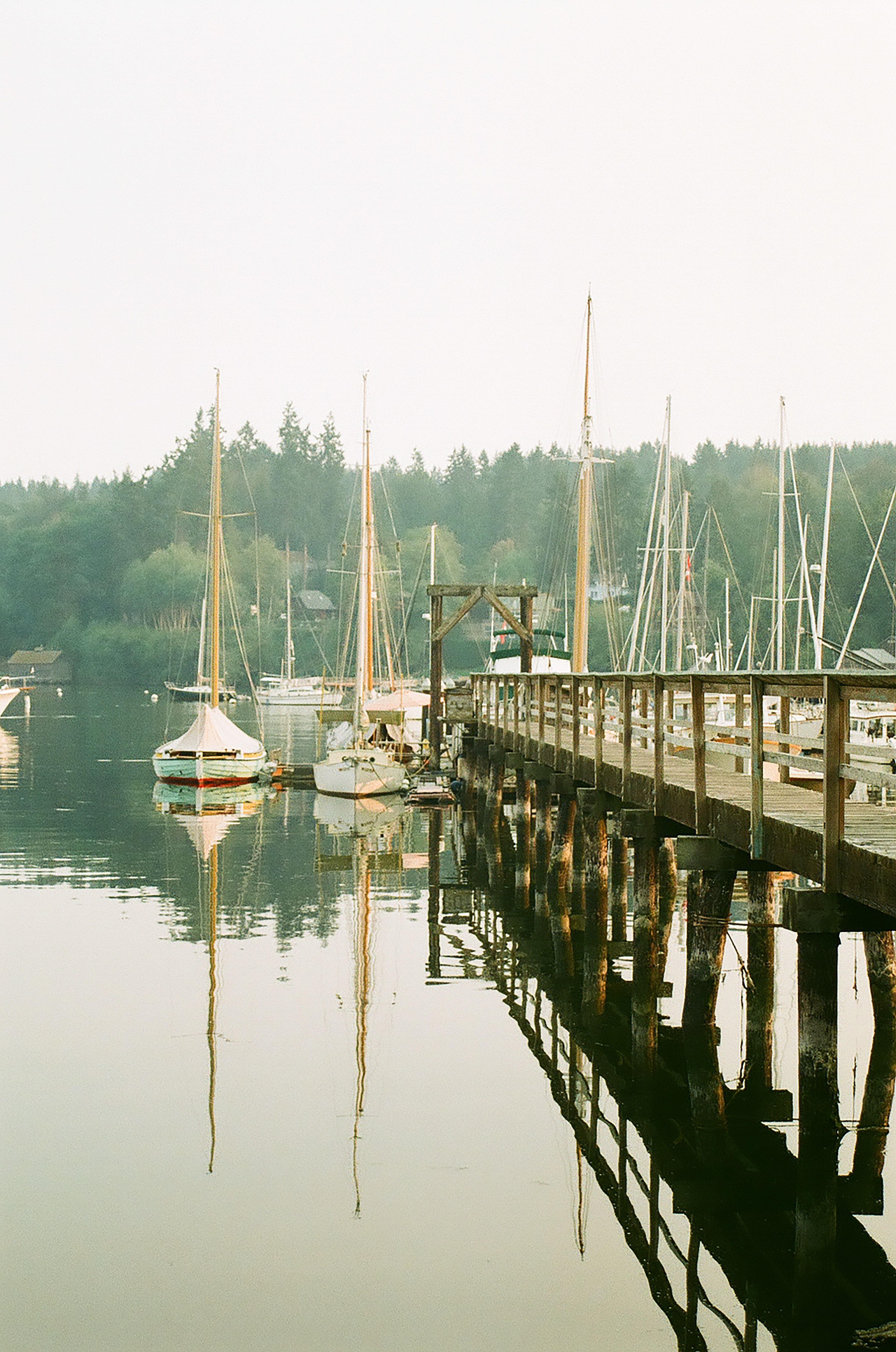 Bainbridge Island pier 
Hopefully, the ferry ride over offered some wildlife sightings, it surely offered up stunning views and smells of Puget Sound. Get some caffeine at Pegasus Coffee and rent an electric bike for a ride around the island.
The short, but gorgeous, stretch around Eagle Harbor brings visitors to the Exclusion Memorial. After learning some history of the island, head a little further south to the Labyrinth for some much need reflection. Head back to downtown Winslow for an early poke bowl at Hi Life to fill up before the Bainbridge Organic Distillery tour and tasting.
Once visitors are nice and toasty, they can do some shopping or spend time at the Bloedel Reserve. Across the Agate Passage is the Suquamish museum. If visitors want to get more walking in they can find one of the many trailheads along the shore or through the wooded inland.
For the sore-legged, consider a full moon kayak tour to get an arm workout in. Finally, rest up at a fancy dinner on Hayday Farm. After a long day, the adventurers can climb into their hobbit hole for some sleep.
FAQ
Q: Is it possible to get to Bainbridge by car?
Yes! Bainbridge Island is connected to the Kitsap Peninsula by a bridge along Highway 305.
Q: Can you see whales on Bainbridge Island?
Whales are often spotted on Bainbridge or on the ferry ride over the Sound. Orcas can be seen any time of the year, but most species pop up between October and February.
Q: What is Bainbridge Island known for?
Bainbridge Island, Washington is primarily known for wildlife sightings—specifically whale watching—but there are countless things to do, including art, history, ferry trips, great food, and challenging hikes.